Well, here we are, mid March ... and Connor is getting a sunburn! I knew it got warm down here, but I had hoped there was at least a calm before the store - you know what I mean: Spring! But nope - it looks like we go from winter (or as I'd call it - a mild autumn) and we just right into summer. But it's a summer I'm used to in Washington: upper 70s, give or take. Cuz lets not forget the two/three ish months where 100 degree weather is just how we roll!
*sigh*
I hate it here - seriously. We should just give these crap states to Mexico and have done with it! There's nothing down here people - nothing!! Ugh!
Anyhoo - today's photo was a snap shop of my baby's burnt cheeks & ears. Poor kiddo. I had no idea I'd have to become paranoid mama with the sunscreen this early in the year :(
And in other news, I did up a little layout tonight that I wanted to share. Kristin decided to do a faith type kit, and while it's a little more frilly with the flowers and whatnot, I was still able to scrap the pics I had chosen before I even saw the kit (the one's from
THIS
day):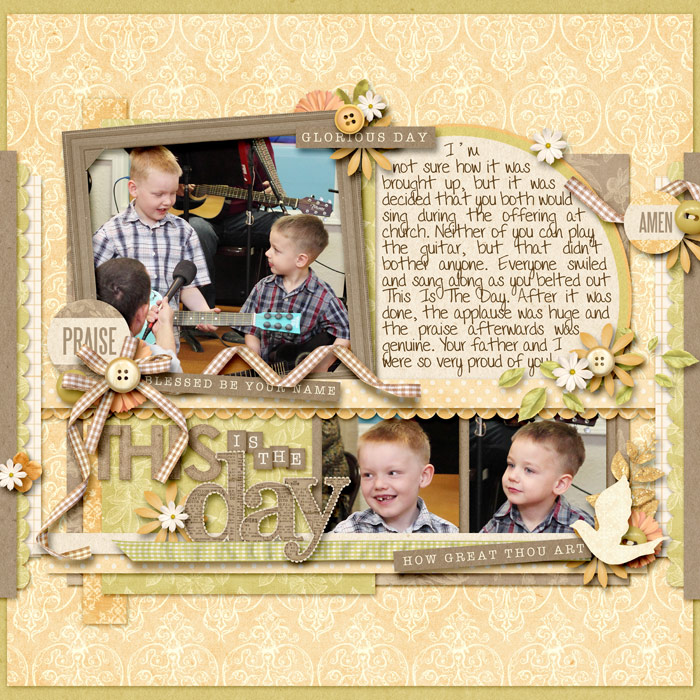 Full credits can be found by clicking on the image!