Day 100 - yay me! Though this is June and I'm just now getting April pics up ... Hmm, not doing so good, am I, lol. Blame it on the awesome summer I'm having I guess. Life is just so fun right now - and I'm too busy to sit and type :P
Anyhoo - today's pic is a hilarious one! Liam is my crazy boy. It sucks that no one ever gets to see it though. He clams up in public. And if I try to record it on my phone, he stops then too! The kid will not perform on cue - it's always spontaneous! And this moment was captured cuz he was just being .... well, being himself, honestly :)
He wasn't really even doing anything when I captured this, lol. I was snapping pics. He was walking backwards and forwards. And then I guess he just ... made this face and snap - I got it, lol. And I love it. I even love the goofy look on Connor's face in the background.
And lastly, another layout. I was late with this one. I was so busy with Easter stuff that I didn't get it done until today (or, well - last night, but in the early a.m. of today). Anyhoo - it turned out fricking awesome! I wasn't too excited about the colors, but what I saw some of the other CT girls do with it helped the direction I took (ie: brown background and lots of dark blue accents!) and it has become one of my all time fave layouts!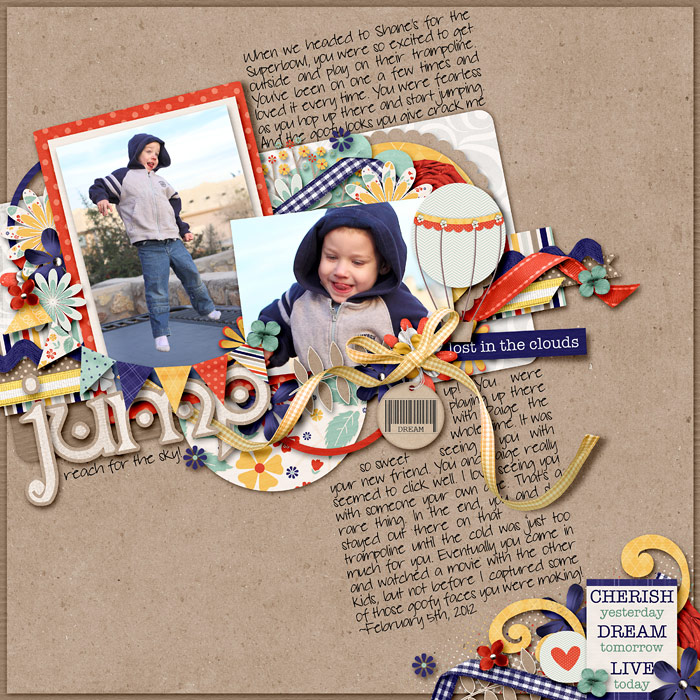 Full credits can be found by clicking on the image!